Eyebrow Waxing and Tinting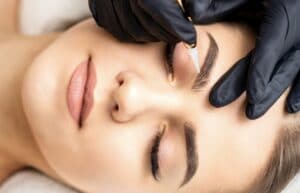 Ready for a pair of perfect brows?  Our experts apply semi-permanent dye to enhance, shape, and redefine your brows.  This allows for symmetry of the brows as well as the ability to increase the width.  This all creates a longer brow line with a more ideal shape.  The tint is not permanent and is mixed to match your existing shade.  Some patients prefer to go a few shades darker.  Overall, brow tinting gives you youthful looking brows. It is best to combine this procedure with waxing, which removes unwanted hairs and allows for perfected eyebrows.  Bella Lei uses Berodin wax, which is gentle on the skin but strong on the hairs.
Eyelash Lifting and Tinting
Read this blog to learn exactly what this experience is like:
Brazilian Bikini Waxing
Bella Lei offers Brazilian bikini waxing by a highly qualified medical aesthetician.  This can be very helpful to do before some procedures such as the Fem Shot or Feminine Rejuvenation!